"SI LE GRAIN NE MEURT",
DON'T PROJECTS
Paris, France, 2009
"These paintings
are much more
autobiographical
than porno"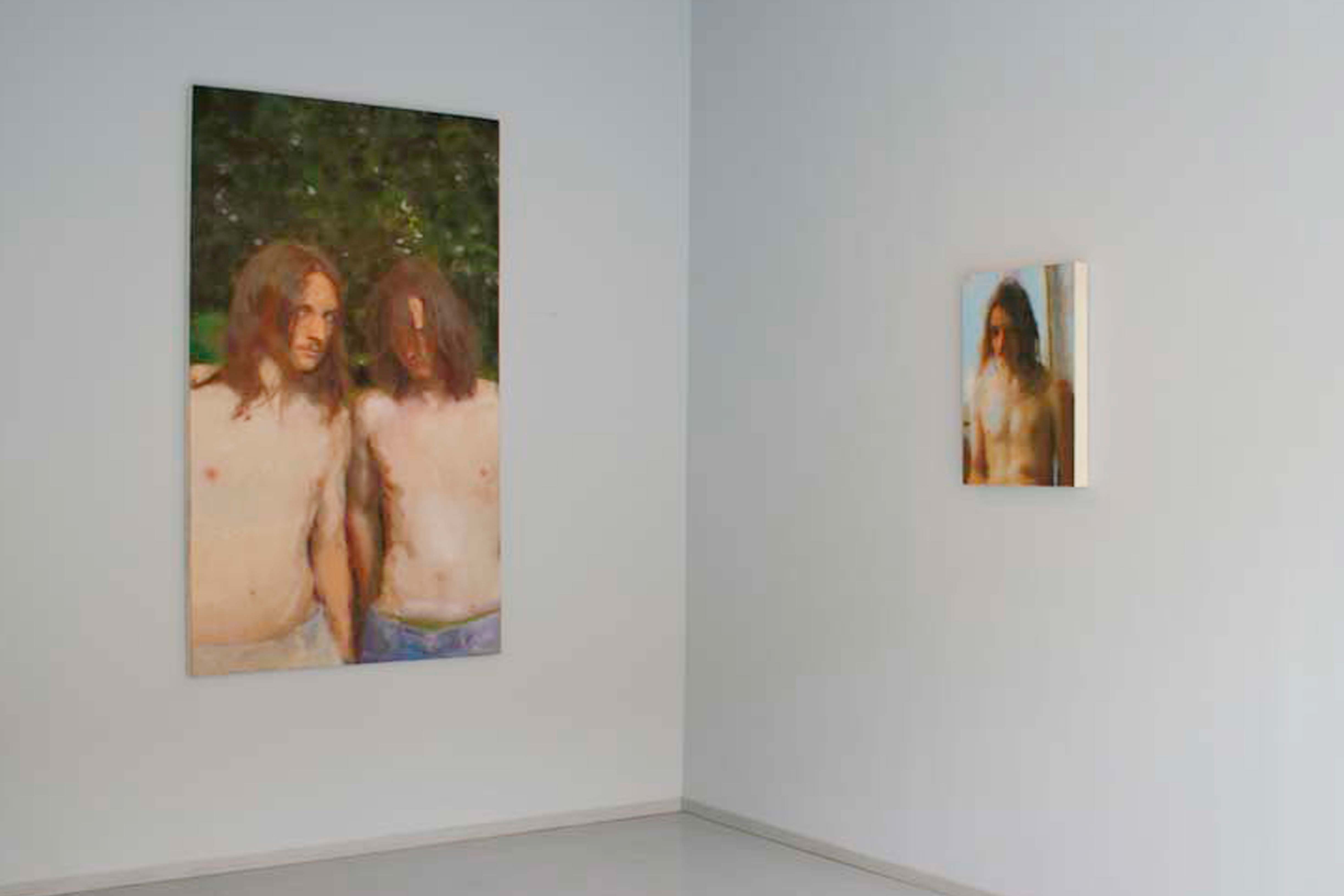 "I grew up in a small village, and I tried to cut my hair and play soccer to fit it, but it didn't work, I still looked like a girl." reminisces German painter Christian Schoeler - "but today, these memories, these traumas have become a positive thing, a strength" he adds. This memory encapsulates the young artist's depiction of temporality, of transitional, shifting masculinity, which is ever present in his work.

Today, Schoeler is showing his first solo Parisian exhibition, at left Bank gallery Don't Projects (at Galerie Hélène Lamarque). Drawing inspiration from painters such as Eugène Delacroix, John Singer Sargeant but also David Hockney, the show consists of watercolours and oil paintings, dedicated to male portraiture. In fine lines, and light, breathy colours, he represents realistic, semi-nudes, often recluse from urban or modern surroundings: rather young adults are placed in natural environments, or non-descript studio spaces, as a way of focusing, of drawing light onto thesubject.
The show is called 'Si le Grain ne Meurt' and is based on André Gide's 1924 autobiographical novel about growing into adulthood, and was one of the first books to openly discuss homosexuality. Similarly, the underlying theme of the work is a temporal, rather than purely sexual one:"These paintings are much more autobiographical than porno", Schoeler explains, "These are not about my desire towards the boys, but talk about a nostalgic journey, it is about growing up, not about sex." His works illustrate the fragile, transient, years between 20 and 25, key years, the painter believes, where one learns to settl into adulthood "The models have a totally different aura in real life than in the paintings," he says "they might appear seductive on canvas but are shy in real - but that's irrelevant, because, in the end, it is my projection that I paint, not reality."
Christian's painting process is not dissimilar to a fashion one. He often finds inspiration in photoshoots, fashion photography; he even selects professional models, generally from the German agency 'Nine Daughters and a Stereo'. He goes on to shoot them, and then paints from photograph, or combines live drawing and photographic prints. "When I was studying at the Academy of Fine Arts in Munich, there was absolutely no way you could seriously mention an interest in fashion," the artist explains, "but I like this world, I feel it's an honest, dedicated approach to beauty." Indeed, Christian's work addresses aesthetics in a similar manner, "when I paint, I'm not looking to make a deep social or political statement, I just want to represent beauty – or at least what I personally find beautiful." Not dissimilar to Dior Homme models under Hedi Slimane's reign, the boys he chooses are often awkward and nerdy,
"To me someone who appears insecure, a little atypical is a lot more interesting than classical good looks. The model just has to convey something beyond his facial features,
in the way he walks, gazes."
Christian recently started painting girls – that is, similarly androgynous female faces, whose elongated figures and features resemble German Middle-Ages portraits. "I find it very difficult to paint women, because I feel the painting has a much higher risk of being totally kitschy," he says. Painting boys remains more of a taboo, the painter explains, "I'm not saying it can't be kitsch, but at least it won't be mainstream." "I know I'm painting youth, but I'm not scared of ageing. On the contrary, look at Lucian Freud, who keeps getting better. Painting is a transient activity that grows and shifts, and this means a constant possibility of improvement."

www.dazeddigital.com
Copyright all images: Gallery Don't Projects
Estate Management, Marnie Broering, München, Germany