"HEAVEN BAGS",
Louis Vuitton, Paul Helbers
Paris, France, 2009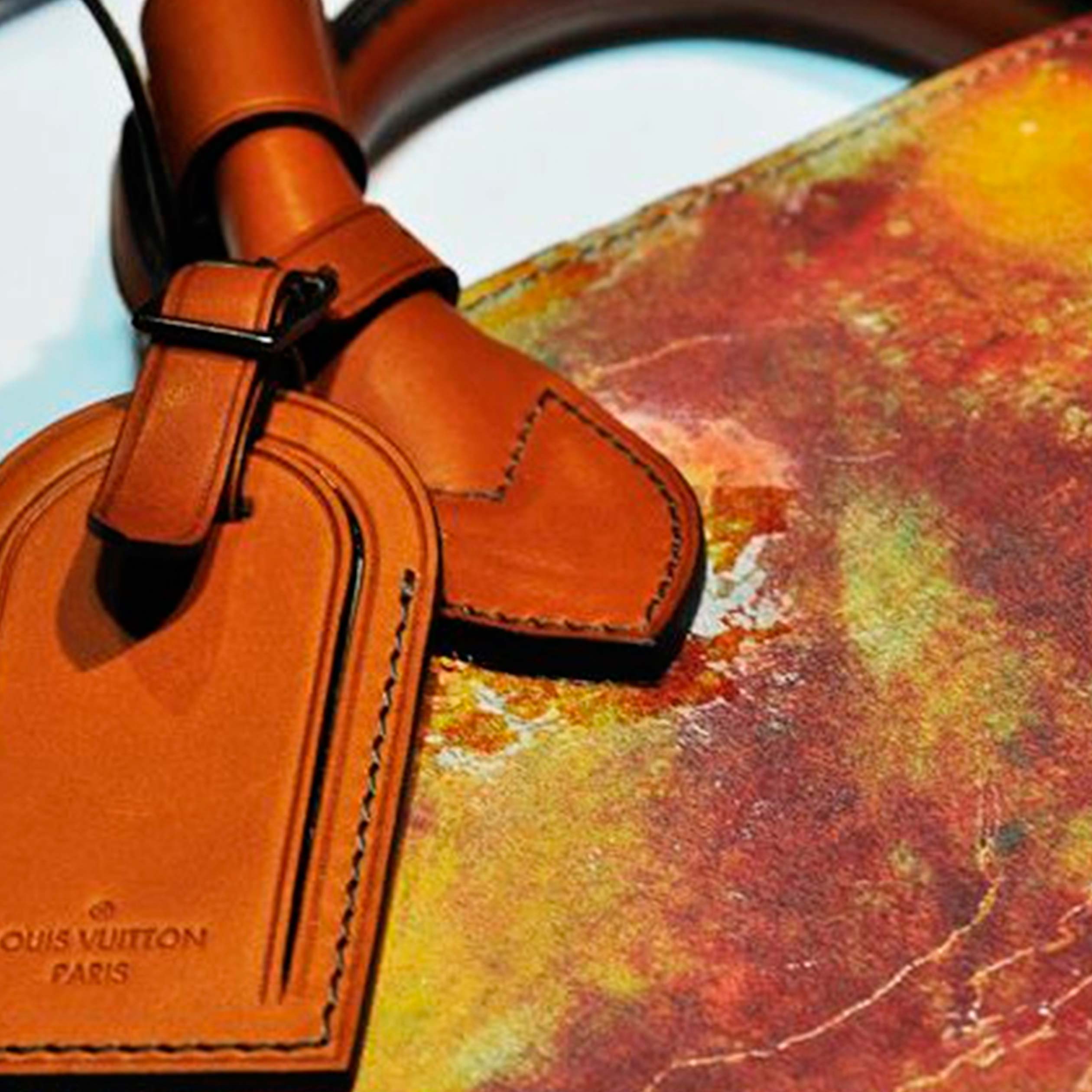 Yesterday, on the
Louis Vuitton catwalks
, three pieces stood out like candles on a cake. Amongst the hard-line, army-chic clothes, colourful, handpainted bags caught surprised gazes. This is a collaboration between Vuitton menswear designer Paul Helbers and young German artist
Christian Schoeler
.
A fan of 19th century painting, which Schoeler inspires his work from, Helbers offered him to create a tangible bridge between art and fashion. After creating suits earlier this year, the pair moved on to bags: 3 models – 2 large weekender-style bags and one square rucksack– were created in a limited edition, out of pieces specially made on leather by Schoeler.
In the city of the Louvres and the Musée d'Orsay, this could have been a kitschy disaster, to compete with Mona Lisa mugs and Van Gogh knickers. Yet the strict, square shapes of the bags –picked by Schoeler- contrasted with the style of the paintings. These depicted landscapes and different natural sceneries, but from a distant, looked like poetic myopia, a soft blur of paint and cracks.
"These are good for traveling, they remind me of the nomadic life artists often lead. It's not really about the bag, but about mobile life" said Schoeler about the collaboration. "All artists' clothes are covered in stains, like an accidental customization", he continued, "My life is about creativity and that applies to art, but also to fashion."
"The Singular Suit",
project, Esquire
Louis Vuitton, Paul Helbers,
Collaboration with Christian Schoeler
Th Singular Suit project, which launches at Somerset House in London on 31 July, brings together the creative talents of some of the best designers, tailors and artists in the world. Esquire asked 18 leading fashion designers and tailors to collaborate with a major artist of their choice to create a bespoke, one-off suit that represents their skills and artistic vision. Their efforts have culminated in an extraordinary array of pieces, from the wearable to the outlandish.

Designs include an Aquascutum and Antony Gormley creation made entirely from metal plates and lead-filled trousers and a "naked" organza suit by Spencer Tunick and Richard James. Louis Vuitton designer Paul Helbers has teamed up with Christian Schoeler to fashion a heavy suit made entirely from a painted canvas (pictured), while Henry Holland has worked with Marc Jacobs' tattooist, Scott Campbell, to create a leather mustard-coloured suit with tattoo-style markings of supermodels' names on the sleeve.

They will be exhibited at the Terrace Rooms, Seamen's Hall, Somerset House from 31 July to 31 August. Many of the designers and artists will attend a special launch party at Somerset House on 29 July. The suits have also been photographed to appear in a unique portfolio in the special hardback September edition of Esquire magazine, on sale 6 August.

Somerset House, 31 July 2009
Copyright all images: DazedDigital Photographer Yang Wang, Text Alice Pfeiffer


Estate Management, Marnie Broering, München, Germany